economic development professionals improving local economies
With the help of our members WEDA has grown into an association that is respected and known throughout Washington State as an economic development organization that gets things done in Olympia. Read our WEDA Success Stories to learn more about our work as the voice for economic development.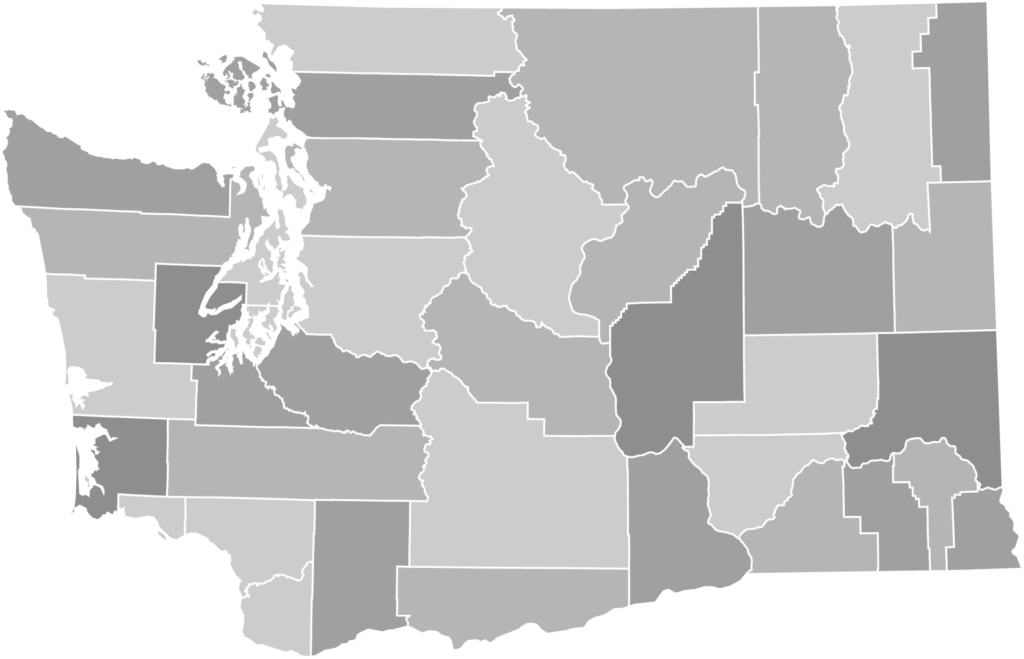 WEDA's 2020 Economic Development Award Winners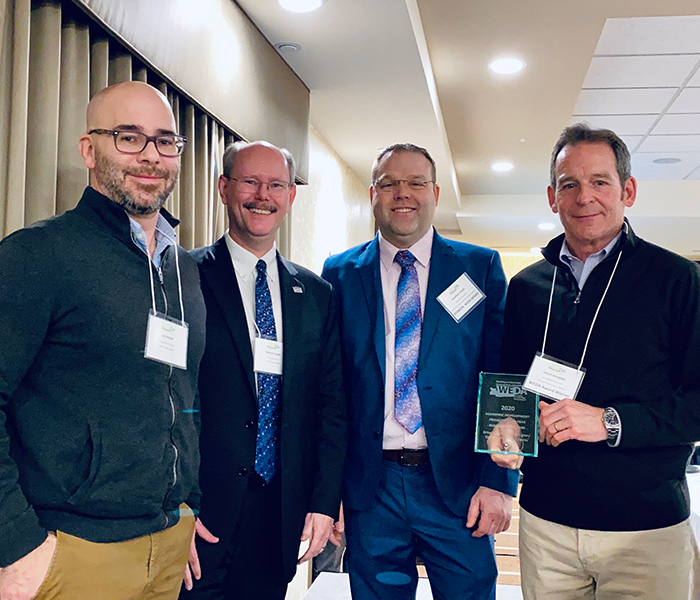 WEDA Economic Development Project of the Year - Ostrom Mushroom Farms, Yakima County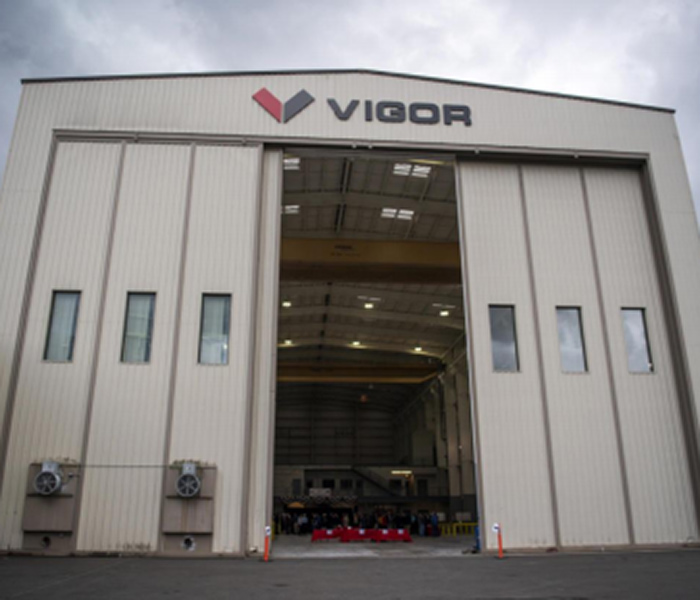 Winter WEDA Economic Development Project of the Year (Expansion) Award - Vigor Industrial Project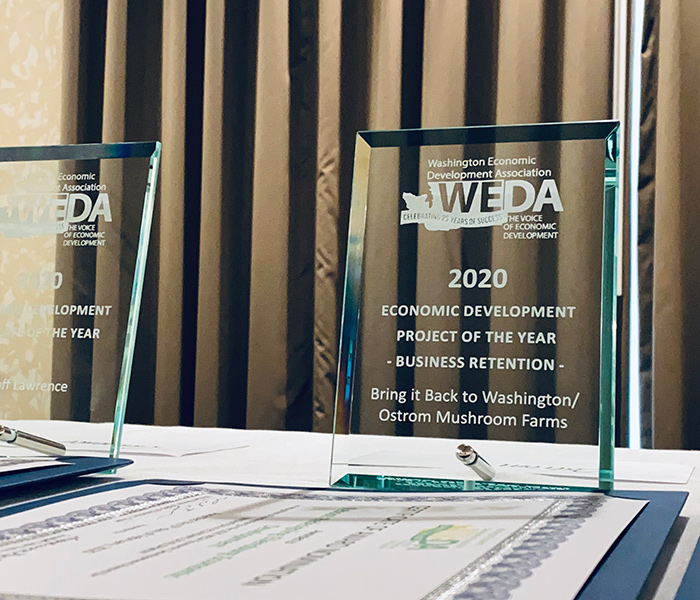 Tool Gauge SRF Grant - Washington State Department of Commerce in partnership with Economic Board for Tacoma-Pierce County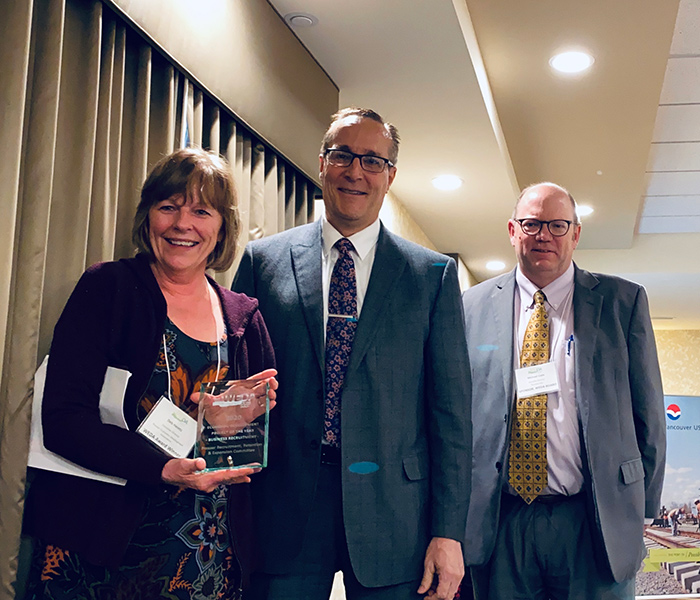 WEDA Nomination - Prosser EDA's Business Recruitment and Expansion (BRE) Committee
Innovation in Economic Development Award - Snohomish County
Ste. Michelle Wine Estates, the Northwest's oldest and most acclaimed wine company, and Railex LLC, a pioneer in transcontinental perishable produce distribution, are teaming up to create the first rail-based system to transport wine efficiently and sustainably across the U.S. The project's cornerstone is a new Wine Services Distribution Center which will be built adjacent to Railex's existing transload center in Wallula, Washington. Railex will invest $18-$20 million to build and operate the 500,000 square foot bonded wine storage and distribution center. It is scheduled to open February 2013.
Paragon Films, Inc., a plastic film manufacturer based in Oklahoma, will a new plant in Union Gap. The new facility is located on Bay Street next to Magic Metals and plans to be open and operational by April 2013. Paragon Films plans to hire 15-20 employees initially and the company ultimately expects to have approximately 50 employees at the Union Gap plant. Union Gap was selected for the company's third manufacturing facility after a West Coast search was conducted and several communities were evaluated.
Nutrilite, a division of Amway, broke ground in October for its new Botanical Concentrate Manufacturing plant in Quincy, WA. The $38 million, 48,000 square foot plant is expected to be operational in 2014 and to create about 30 jobs for the local area. The Grant County Economic Development Council began working with Nutrilite and Amway on the project in 2010 and assisted the company with site selection, permitting, utilities, workforce development, tax incentives, and local connections for engineering and construction companies.
ECONOMIC ALLIANCE SNOHOMISH COUNTY
The non-profit alliance serves as a combined economic development organization and countywide chamber of commerce. Economic Alliance Snohomish County is a catalyst for economic vitality resulting in stronger communities, increased job creation, expanded educational opportunities, and improved infrastructure.
*source Economic Alliance Snohomish County 
Business is booming in the aerospace sector. Hexcel Corporation expects to nearly double their workforce with an expansion this year. The Economic Development Association of Skagit County recruited Hexcel Corporation, a global supplier of advanced materials, and the manufacturer of high-tech honeycomb material used in aerospace, wind energy, and automotive industries, in 1990. Hexcel opened their manufacturing plant at the Port of Skagit in Burlington, WA with a 50,000 sq. ft. facility and today employs 130 people. Currently they are under expansion to a 100,000sq.ft facility and expect to be completed mid- 2013. The success of their expansion required many hands, and it is the unselfish collaboration of so many organizations and Page 5 of 9 individuals that continues to be vital as we move forward to attract businesses to our communities.
Pyrotek, Inc., a global leader in the development, manufacture, and sale of high-temperature materials for industrial applications, has announced their decision to relocate a manufacturing line from a plant in Mexico to Spokane Valley, Washington. The company considered proposals from several U.S. locations, including Idaho, Pennsylvania and Tennessee. Greater Spokane Incorporated assisted Pyrotek in obtaining $150,000 in assistance funds from Governor Gregoire's Strategic Reserve Fund, which included $75,000 in relocation assistance and $75,000 in employee training assistance for the project.
EnCon Washington, LLC. a leader in providing engineered concrete products and services to commercial, multi-family residential, heavy highway, military and public works projects, is completing a multimillion dollar expansion at their manufacturing facility in Frederickson, Washington. The expansion, which will be complete in spring 2013, will produce concrete segments that are used to line the SR 99 Alaskan Way viaduct replacement tunnel in Seattle. When completed, the expanded EncCon plant in the Frederickson Industrial area will occupy 21.5 acres and provide space to store nearly 7,000 concrete segments prior to the mobilization of the customer's tunnel boring machine. The Pierce County Economic Development Department helped EnCon Washington obtain the necessary permits for the expansion which will result in over 100 new jobs.
Adopted its Revitalization Area in 2009, LRF projects were established May, 2011
In an effort to open up new commercial and industrial development lands. Capital Page 6 of 9 projects include: Southridge Sports & Events complex, expansion of roads Southridge Blvd. to 27th and Southridge Blvd. to Hildebrand to Ridgeline. These projects immediately resulted in the ground breaking for the new Kennewick General Hospital, Bob's Burgers & Brew, Z-Place, Canyon Chiropractic, Tri-City Lab, TrueBuilt Home, LLC, Smasne Cellars, Wine & More, LLC, Kimaura Salon, Fujiyama's.
*source City of Kennewick
Property Tax Increments ($8.4M new AV):
Work funded under the Revitalization Area for Industry, Science and Education is divided into three project areas and is in partnership with Benton County and the Port of Benton. Project areas are as follows:
*source City of Richland
The direct benefits of LRF are being realized by the Tri-Cities region. Secondary developments that are also occurring are the Wine Science Center at WSU Tri-Cities, total of $40m in 2011 and 2012 by private development of office, lab bay space and apartments with the Tri-Cities Research District, IPZ. The City of Kennewick Southridge area has seen over 100 million dollars of new development started within the LRF since 2009.
WEDA Membership Has Its Benefits
WEDA is Washington State's voice for job recovery, retention and expansion. Together with our diverse and talented membership, we advocate for a business climate that fosters job growth in our local communities and throughout Washington.