Background & Legislative Proposal
Strengthen the Economic Development Ecosystem
Support ADO Innovation Bills (companion bills – HB 1717/SB 5379) and $5 million (per year, statewide) Funding Request.
This legislation would create a competitive grant program (equitably distributed across the state) to support and catalyze initiatives which will foster Innovation, Sustainability, Partnerships and Equity in results-driven regional economic development. ADOs have a mission of confidential, client-based economic development that public-private partnerships are uniquely equipped to provide. ADOs serve as critical conveners and catalysts at the regional level. ADOs are a proven, accountable, cohesive and intergovernmental network that covers the entire state.
Over the last five years, local ADO/EDC partners have helped over 672 businesses expand or develop new facilities and assisted 564 startups.
These companies have invested over $3.84 billion in land, buildings and equipment. These growing businesses have created over 13,851 new jobs, and retained over 13,733 jobs.
EDC business clients are estimated to generate over $100 million in new tax revenues for Washington State and local communities annually.
2023 Legislative Requests
Increase funding for regional capacity to coordinate and deliver economic development services through a new and ongoing $5 million (per year, statewide) "ADO Innovation, Sustainability, Partnerships & Equity Fund."
Proposed Additional State Support
Ongoing "ADO Innovation, Sustainability, Partnerships & Equity Fund."
Goal: Recover and grow jobs, retain and expand existing firms, recruit new business, support key industry clusters and support an equitable economy and inclusive economic development
Ongoing $5 million (per year, statewide) competitive fund, not a formulaic "plus up" of state funding. The statewide ADO network currently receives $4.3M per year, with a $75K floor for rural counties/small ADOs and $300K cap for large counties- restored to pre-Great Recession levels after severe reductions
Annual competitive application (simple & straightforward)
Equitably distributed and regionally conceived & directed
Would support and align with multiple state and regional initiatives underway and emerging to foster improved workforce development, innovation, sustainability and regional partnerships and collaboration for results-driven inclusive economic development.
Beyond the legislative restoration of prior severe state funding reductions from the Great Recession and one-time only funding during the COVID-19 pandemic, ADO funding levels have remained stagnant for decades. Despite significant additional responsibilities and challenges retaining and recruiting staff, ADOs do not receive any Cost-of-Living or inflation adjustments.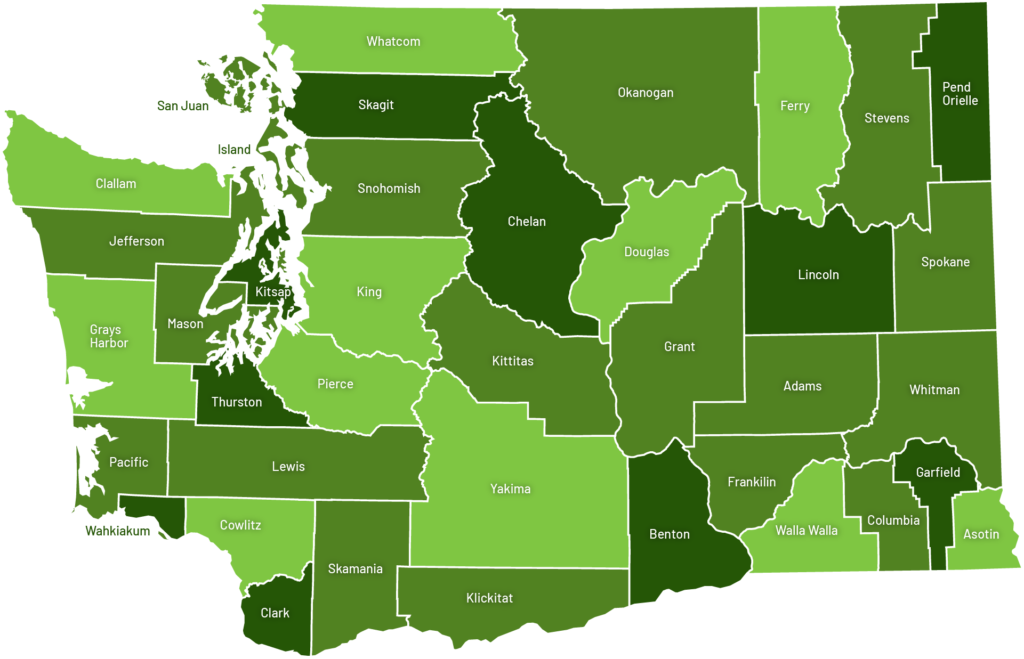 Associate Development Organizations
Washington State is composed of 39 counties, each one represented by an Associate Development Organization (ADO) that furthers the county's or region's economic development goals. These ADOs are funded in part by the Washington Department of Commerce and their performance and expertise is critical to growing the economy and building communities statewide.
And hundreds of economic development organizations, public and private sector, tribal, education/workforce and community leaders across Washington State.