2021 WEDA Summer Conference
Reconnecting on the Road to Recovery
WEDA's 2021 Summer Conference, Reconnecting on the Road to Recovery, proved to be another content-rich, fun and engaging WEDA adventure! THANK YOU to all who joined us in Spokane and virtually, to our incredible speakers, generous sponsors, the WEDA Board, our Conference Planning Committee, our amazing hosts from Greater Spokane, Inc. and to the hospitality workers at the Davenport and everywhere we went for making this a truly successful conference! 
2021 Summer Conference Photo Album
Exclusive Offer for the WEDA Community!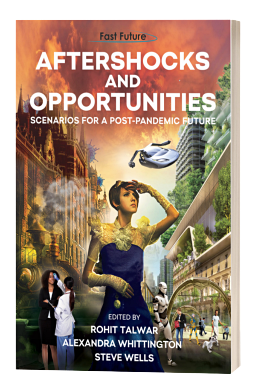 Rohit Talwar is the editor and co-author of seven books on the emerging future. His latest book Aftershocks and Opportunities was published on July 27, 2021. The book draws on future thinkers and experts from around the world to explore the ways in which our world could evolve in the coming years and the opportunities and risks we face in navigating a path to the future.
All of Rohit's books are available to the WEDA community for a 50% discount using coupon code WEDA50 at checkout via https://fastfuture.com/product-category/books/
WEDA's 2021 Summer Conference is on IEDC's list of Recognized Events for CEcD recertification.
Discounts for WMBEs, Economic Developers in Need, Students & Retirees
As part of WEDA's ongoing Diversity, Equity and Inclusion outreach, Women & Minority-owned Business Enterprises (WMBEs) and equity-focused/ethnic organizations are offered significant discounts or scholarships on registration fees. Additionally, Policymakers, Economic Developers in Transition, Students and Retirees are often offered discounts or access to events and content for free.
2020 Summer Conference: Onward & Upward
Onward & Upward Forum's Opening Session
Kick-Off "Onward & Upward" with opening remarks from WEDA leadership and a welcome by City of Vancouver Mayor Anne McEnerny-Ogle. Then an update from Commerce Director Lisa Brown who is joined for a conversation about "Equity Through the Recovery" with Bryant Campbell who leads Business Oregon's Diversity, Equity & Inclusion work.
Leveraging Resources, Rebuilding Communities
We promised Resources for Economic Recovery, and we deliver with this session! Hear updates and learn how to access resources through federal agencies, the Small Business Administration, the Federal Reserve Bank and the Economic Development Administration, and the head of our international association, IEDC.
Accessing Capital to Spark Recovery
This session begins with special remarks by Governor Inslee and features a keynote presentation from the President & CEO of the American Bankers Association (ABA), Washington State native, Rob Nichols. The ABA represents banks of all sizes and is the voice for the nation's $18 trillion banking industry.
Public Health as an Economic Imperative: Maximizing Strong Health Partnerships for a Successful Economic Recovery
Maintaining public health has become more of an economic imperative than most of us ever imagined. How can economic developers and those working to recover jobs in communities partner with the health industry through this COVID-19 crisis and beyond? Learn with this diverse group of leaders.
Worker Safety as an Economic Imperative: Safe Work = Job Recovery
We are on a long road to economic recovery, but we will not get there without prioritizing worker safety. This top-notch panel explores what "Safe Work = Job Recovery" means.
Workforce Development as an Economic Imperative: Rebuilding and Reinventing Our Workforce from Cradle to Career
How important will workforce development and education be through economic recovery? How can we preserve our crucial human capital despite potential funding reductions? These leaders of "Cradle to College & Career" organizations share their thoughts.
Building the Back to Work Toolkit
How are workplaces changing as they reopen during COVID-19? How can employers create safe environments while preserving company culture? Katie Drucker, the head of business development and partnerships at Madrona Venture Group, led the development of a "Back to Work Toolkit" that is helping employers across the state and nation with reopening resources. She shares the Toolkit and how it was developed, and provides an entrepreneur's perspective on how we move toward recovery.
Rising All Boats as We Recover: Equity as Essential in Recovery
Equity is essential through the economic recovery. How can we reconsider, reposition and rework economic development to be more inclusive? What strategies can you employ in your communities to address and reverse disparities and ensure economic opportunities for all? This diverse panel has answers and addresses these crucial questions.
Regional Policy Solutions: Leveraging Partnerships and Data for Regional Challenges
It's so much easier to run a grant program for your city or county only, but what if we collaborated and effectively shared resources across regions? How are regions collaborating to fight COVID and plan for recovery? What data sources can be leveraged to move forward together, and strategically? These leaders have lessons learned to share.
Infrastructure as a Critical Catalyst for Economic Recovery
Our infrastructure deficiencies are staggering, from transportation to public works to broadband. What funding tools are available, how can economic developers be helpful, and how can we help ensure that funded projects will help recover or catalyze job growth? This panel of leaders provides strategic guidance and perspective.
Innovative Financing Tools for Entrepreneurship & Economic Recovery
From Revolving Loan Funds to employer tax credits to the PPP, there are tools to help entrepreneurs, the startup ecosystem and microenterprises survive COVID. What options exist, or should be created, to help innovators stabilize, survive and recover?
Keynote Address & Closing Session: 
Onward & Upward – An Action Plan for Economic Developers
Richard Florida, one of the world's top thought leaders on economic competitiveness, demographic trends, and cultural and technological innovation, provides an action plan for economic developers and community leaders to help your community mobilize.